Advertising Your Hotdog Cart
Are You Wondering How To Advertise Hot Dogs?!
When advertising your hotdog cart, you need not open as a full-blown set up; you can open and provide a few options for your new customers.
Disclaimer: I am an Amazon Associate; therefore, this post may contain affiliate links for me to earn a commission. RuralMoney.com is a participant in the Amazon Services LLC Associates Program, an affiliate advertising program designed to provide a means for sites to earn advertising fees by advertising and linking to Amazon.com.
3 Best Options For Advertising Your Hotdog 🌭 Cart
1. Soft Openings
When you open for business, you need not open as a full-blown set up.
You can open and provide a few options for your new clients.  
Once you have opened the hotdog stand, you can learn about the tricks of the trade and iron out the kinks of your business processes.
After a couple of weeks, you would be able to identify your problem areas and thus improve your business when you finally run full time.  
Soft openings can help you test your market response to your menu. 
2. Flyers
One of the cheaper ways to advertise your business.
Since you have already scouted the foot traffic in the area and determined the businesses around your business area, giving out flyers a few days before soft opening and full opening would help inform your possible market of your business.  
Also, providing coupons for those that bring the flyers over to your concession stand would help in showing how effective this marketing tool is to your business.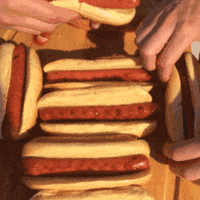 3. Quality And Quality
You need to show your prospective clients that your menu contents are the best in the area.  
Thus, you need to keep strict quality controls on the food ingredients and preparation process for your food.  
When you make quality food, then word gets around and when word gets around, you have a successful business.  
Advertising your business doesn't need to be a full-blown and expensive endeavor.  
Undertaking a soft opening would make a splash for your market to inform them of your business.  
Giving out flyers would essentially open a larger market for your business by providing information to your target market.  
The best way though to make and keep your clientele is the quality of the food that you serve.
Having all these together would ensure that your business is successful. 
Proudly Curated From Willy Dog
Image Source
Rural Money Hot Dog Library
How To Sell Hot Dogs On The Internet To Make Bank
3 Key Tips To The Psychology Of Selling Willy Dogs
Why You Should Start A Hotdog Business In July
Willy Dog Franchise With No Franchise Fees For Rural America
Where To Park Your Food Cart And Truck In Rural Areas